Amphibian Taxon Advisory Group Grant
To date, the ATAG has awarded over $30,000 for a variety of amphibian conservation and research programs.   The application cycle, application, and past awards are listed below.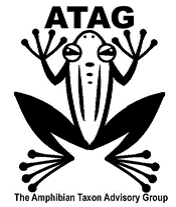 If you are interested in applying for the 2021 Amphibian Taxon Advisory group Small Grant, please click HERE to download the application.  Please review application and guidelines before submitting.
ATAG Past Grant Recipients:
2020
Heidi Ross, EVACC Foundation: "Design, Fabrication, and Testing of Mesocosms for the Reintroduction of Panamanian Amphibians."
2019
Dr. Bryan Windmiller, Zoo New England: "Education and Outreach through Marbled Salamander Headstarting." Awarded $1,000.
Edgardo Griffith, EVACC Foundation: "Outfitting a new captive breeding facility for Critically Endangered Panamanian Amphibians." Awarded $1,000.
Debra Miller, DVM, PhD. & Rebecca Hardman, DVM, PhD., University of Tennessee: "Efficacy of Terbinafine Implants to Provide Antifungal Treatment and Increase Survival in Hellbenders (Cryptobranchus alleganiensis)." Awarded $1,000.
2018
Margaret Rousser, Conservation Manager, Conservation Society of California/Oakland Zoo: "Headstarting and Reintroduction of Rana muscosa to Sequoia and Kings Canyon National Parks." Awarded $2,000
2017
Kristin Hinkson, Research Technician, Memphis Zoo: "Genetic Comparisons between Captive and Natural Dusky Gopher Frog (Lithobates sevosus) Populations."  Awarded $1000.00
Lacy Rucker, Graduate Research Assistant (Ph.D. Student), West Virginia University: "The Impacts of Climate Change on the Growth, Survival, and Competition of Terrestrial Salamanders in Central Appalachia."  Awarded $1000.00
2016
Susan Lyndaker Lindsey, Ph.D., Mesker Park Zoo and Botanic Garden:  "Indiana's first captive breeding program for the Eastern hellbender."  Awarded $1000
Stephen Nelson, Zoo Knoxville: "Description of a new species of waterdog (Necturus sp.) from Tennessee." Awarded $1000
2015
Kiley Buggeln, Hutchinson Zoo: "Dusky Gopher Frog Initiative."  Awarded $2,000
Gustavo Ernesto Quintero Diaz, Universidad Autónoma de Aguascalientes: "Reproduction ex situ of Smilisca dentata and Lithobates neovolcanicus." Awarded$2,000.
2014
Dr. Michael Lannoo, Indiana University School of Medicine: "Developing Repatriation Techniques for Crawfish Frogs (Lithobates areolatus) in Reclaimed Grasslands."  Awarded $538.00.
Dr. Michael Lannoo, Indiana University School of Medicine: "Can Captive-reared Tadpoles Re-establish Crawfish Frog Populations?" Awarded $600.00.
Michelle Moses, Sunset Zoo: "Puerto Rican Crested Toad Captive Breeding Program." Awarded $885.00.
2013
Dr. Corinne Richards-Zawacki, Tulane University: "Rays of Hope: Identifying factors mediating the survival of Panamanian golden frog populations." Awarded $1,000.
Jessi Bushell, San Francisco Zoo: "Head-starting Sierra Nevada Yellow-Legged Frogs, Rana sierra, for Conservation Initiatives in the Lake Tahoe Basin, California." Awarded $1,678.
2012
Katherine Baumberger, California State University: "Home range and habitat preference of the western spadefoot toad (Spea hammondii) in Orange County Protected Areas." Awarded $1,000.
Dan Costell, Lowry Park Zoo: "Increasing capacity at the Lowry Park Zoo for Puerto Rican crested toad reintroductions." Awarded $1,000.
2011
Amy McMillan, Buffalo State College: "Conservation Genetics of Allegheny Hellbenders in New York State" to aid in reintroduction efforts with hellbenders head-started from Buffalo Zoo. Awarded $1,000.
Tim Herman and Andrew Odum, Toledo Zoo: "Educational Materials for the Conservation of Guatemalan Amphibians." Awarded $1,000.
Sean Putney, Kansas City Zoo: "Educational Video Highlighting the Wyoming toad and Collaborative Efforts for its Recovery." Awarded $300.
2010
Robert Hill, Atlanta Botanical Gardens: "Water Quality Monitoring to Better Assess Suitability of Captive Rearing Facilities and Recipient Sites for Head Started Carolina Gopher Frogs Rana [Lithobates] capito) in Georgia." Awarded $1000.
Carmen Linares, Africam Safari: "Protecting the Large-Crested Toad (Incillus cristatus)": booklet as a mean to Achieve in situ conservation. Awarded $1,000.
2009
Paul Crump, Houston Zoo: "Houston Toad in situ Monitoring Surveys." Awarded $1,000.
Brian Gratwicke, National Zoo: "Is chytridiomycosis affecting Appalachian salamanders?" Awarded $1,000.
Robert Hill, Atlanta Botanical Gardens: "Head Starting & Repatriation of Carolina Gopher Frogs (Rana [Lithobates] capito) on Protected Land in Southwestern Georgia." Awarded $888.
Carlos Martinez Rivera, Philadelphia Zoo: "Conservation of critically endangered harlequin frogs, (Anura: Bufonidae: Atelopus) from the eastern slopes of the Ecuadorian Andes." Awarded $1,000.
2008
Jen Stabile, Central Florida Zoo: "Husbandry Development, Capacity Building for Eleuthrodactylids in Puerto Rico." Awarded $500.
Ron Gagliardo, Atlanta Botanical Gardens: "Head starting the Gopher Frog (Rana capito): Conserving Georgia's most threatened frog." Awarded $940.
Terry Robison, Cleveland Metroparks Zoo: "Vernal Pool Creation/Enhancement and Wood Frog Repatriation Project." Awarded $1,000.
2007
Cindy Kreider, Erie Zoo: "Erie Zoo's Amphibian Conservation Classroom." Awarded $1,000.
Bob Johnson, Toronto Zoo: "Capacity Building in Mexico for Axolotl." Awarded $1,000.
2006
Diane Barber, Fort Worth Zoo: "Educational Outreach to Benefit the Puerto Rican Crested Toad." Awarded $1,000.
Paul Crump, Houston Zoo: "Construction of El Valle Amphibian Conservation Center in Panama." Awarded $1,000.